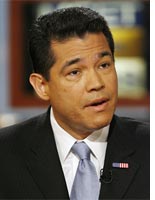 Tight lipped
Karl Rove
left his four-hour meeting with federal prosecutors on Friday making no comments. Investigators are looking into the 2006 Rove-Bush firings of nine U.S. Attorneys.



The internal report concluded that Mr. Rove - along with Monica Goodling, former White House liaison for the Justice Department; former White House official Harriet Miers; and former Sen. Pete V. Domenici, New Mexico Republican - were involved in the "most troubling" firing - that of former New Mexico U.S. Attorney David Iglesias.
Despite Justice Department assertions that Mr. Iglesias was fired because of his job performance, the report concluded that he was removed because New Mexico Republicans complained to the White House and Justice Department about his handling of voter-fraud and public-corruption cases. Mr. Iglesias said Mr. Domenici pressured him to bring corruption charges against a Democratic state lawmaker before the 2006 election. Mr. Domenici has acknowledged calling Mr. Iglesias but said he did not pressure him to bring an indictment. The internal report concluded that an appointed prosecutor could conduct a more extensive investigation because several officials, including Mr. Rove, refused to cooperate. The report said it could not fully determine the role of the White House in the firings but did conclude that it was involved in at least three of the nine dismissals.