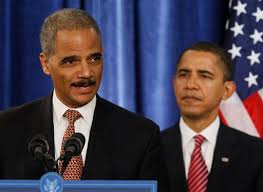 Breaking News:
"In his first confab with the nation's chief federal district judges, Attorney General Eric Holder Jr. pledged to raise the bar of professionalism in the U.S. Department of Justice and acknowledged that the current procedure for reviewing complaints against attorneys was too slow and opaque."
Details are emerging this morning about this closed-door meeting held on April 21st.
Holder has encouraged federal judges to contact his office directly to layout details of any occurrences of prosecutorial misconduct during the Rove-Bush Administration.
Law.com reports, "Holder invited the judges to contact him directly about problem prosecutors and other areas of concern.
He even gave the crowd his phone number
, a symbolic gesture that resonated with many judges who say the department's emphasis on national security, while justified, has put distance between the two branches in recent years."
Read the full law.com article
here
.