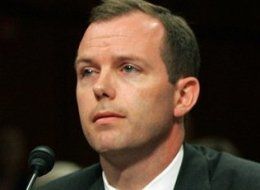 As the goose-stepping
Rove Republican Racket
is known to do against political opponents, once a mistrial is declared, they go in for round two against their opponents.
Yesterday, we informed you about the delared mistrial of Kevin Ring (pictured), the lobbyist who was targeted by the Racket for giving away lavish dinners and free tickets to government aides.

Now comes news that the prosecutors want to retry Ring. The Associated Press writes:




A federal judge Monday set June 21 for the retrial of a former lobbyist ....U.S. District Judge Ellen Segal Huvelle set the date after Thursday's mistrial for Kevin Ring. The jury had deadlocked over eight counts. The mistrial was the biggest setback in the government's prosecution of cases related to [the] Abramoff [lobbying scandal]. Justice Department attorneys had wanted a January or February retrial date. The judge, however, took into account the scheduled Dec. 8 Supreme Court arguments on the constitutionality of the federal "honest services" fraud statute, used to charge Ring.

U.S. Attorney General Eric Holder needs to intervene and stop another embarrassing episode, especially if the U.S. Supreme Court declares the dishonest "honest services" law unconstitutional.